So I'm pretty sure you have heard of Roxannes Rum Eatery through either some social media or through grape vine. If you haven't, well,  you are in luck cause I'm gonna tell you all about it sweet cheeks!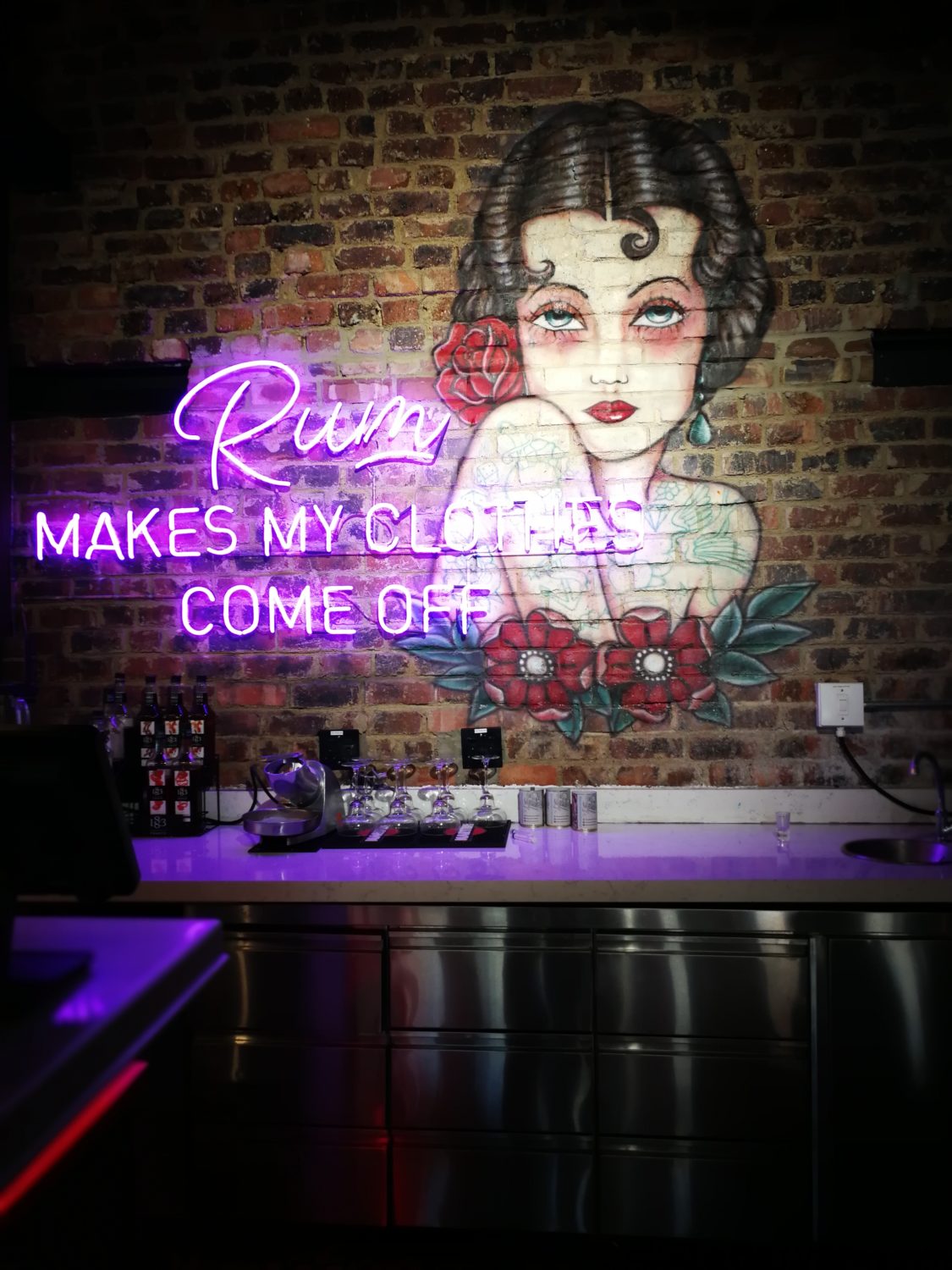 I was invited to try out their new vegan menu that they have introduced and how they plan to save the world one Meat-Free Monday at a time.  They calling this Flexitarianism, the act of shifting from a meat-heavy diet to adopting a plant- based lifestyle as and when the desire arrives! I love how they approaching Joburg's flexi-eating culture and giving us the freedom to enjoy both options!
So who is Roxanne…
'Roxanne is the everywoman. She is a head turner, a heart breaker. She is quiet and sincere, but she is also loud and strong. She is pure confidence and strength. Roxanne is funny but serious when she needs to be. She is brave and untamed. Men want to be with her, they want to keep her. Women want to be her. You'll find her nestled among the neon signs, her complexion glowing under their blood-red light. With a drop of the shoulder, she bites her bottom lip and welcomes you in, hand stretched out. You take it and enter a world unlike any other. When she looks at you, with a gaze that holds no bounds, suddenly you're the only person in the room. But don't try to hold onto the moment, for it is fleeting. Roxanne cannot be caged, she will not be tamed. Come and join her, with no reservation, only passion and freedom. She'll remind you what it's like to live for the moment. She'll teach you how to be true to yourself. For each of us, even those unaware, have some Roxanne within. Let her out. Set her free and be the women you were born to be.'
Now doesn't that sound like a place that just gets you? I so wanna be Roxanne…
Roxanne's is a vibe…
Roxanne's decor is so beautiful! It's got a modern look with a bit of what reminds me of a secret 50's-60's underground cigar lounge vibe. Tasselled light shades hang above you and pin-up girl murals surround you on the face- brick walls. The best part is the neon lights which really brings everything to life! Every corner is Instagram worthy and without a doubt a clever thing to incorporate in a restaurant!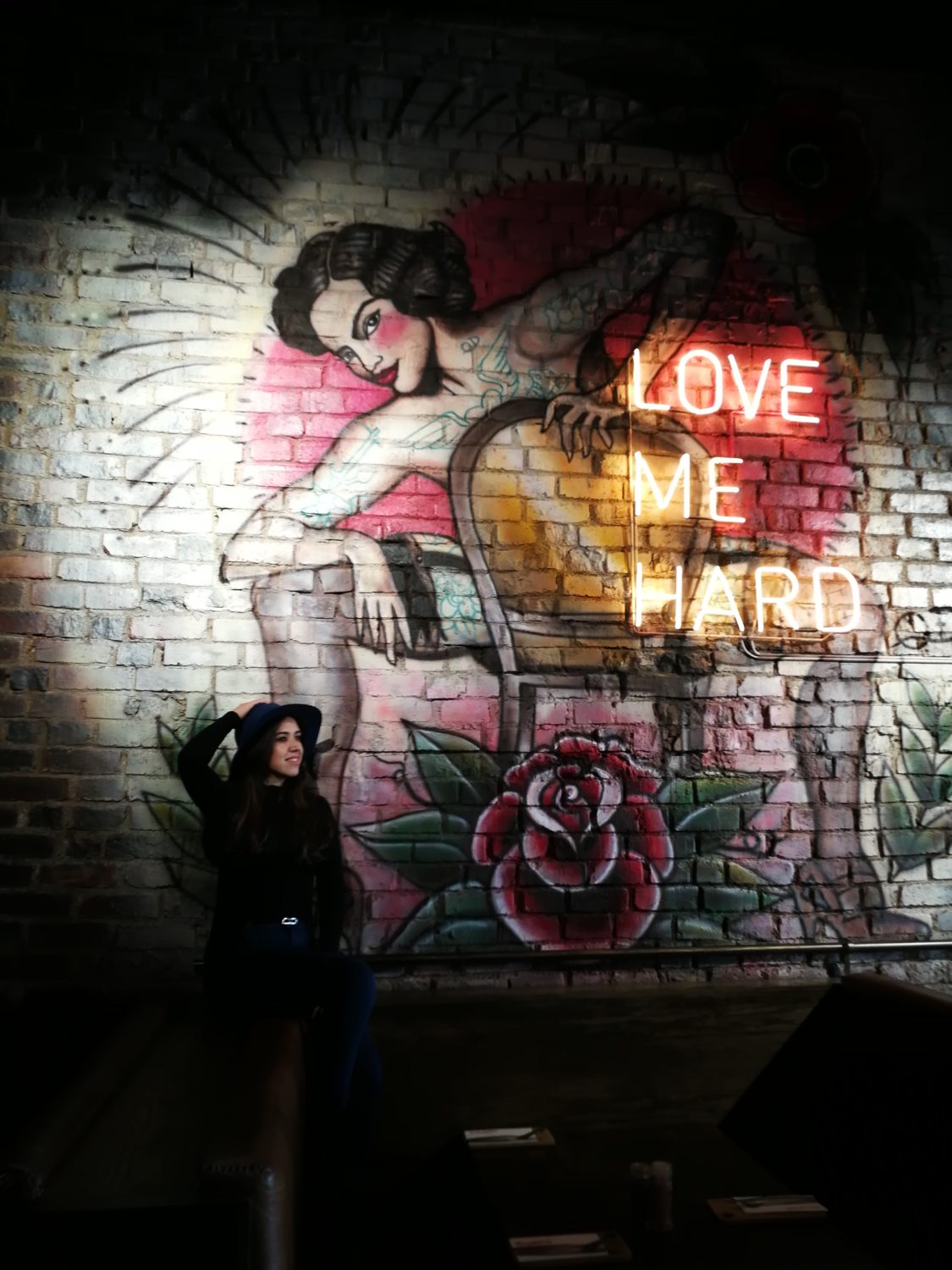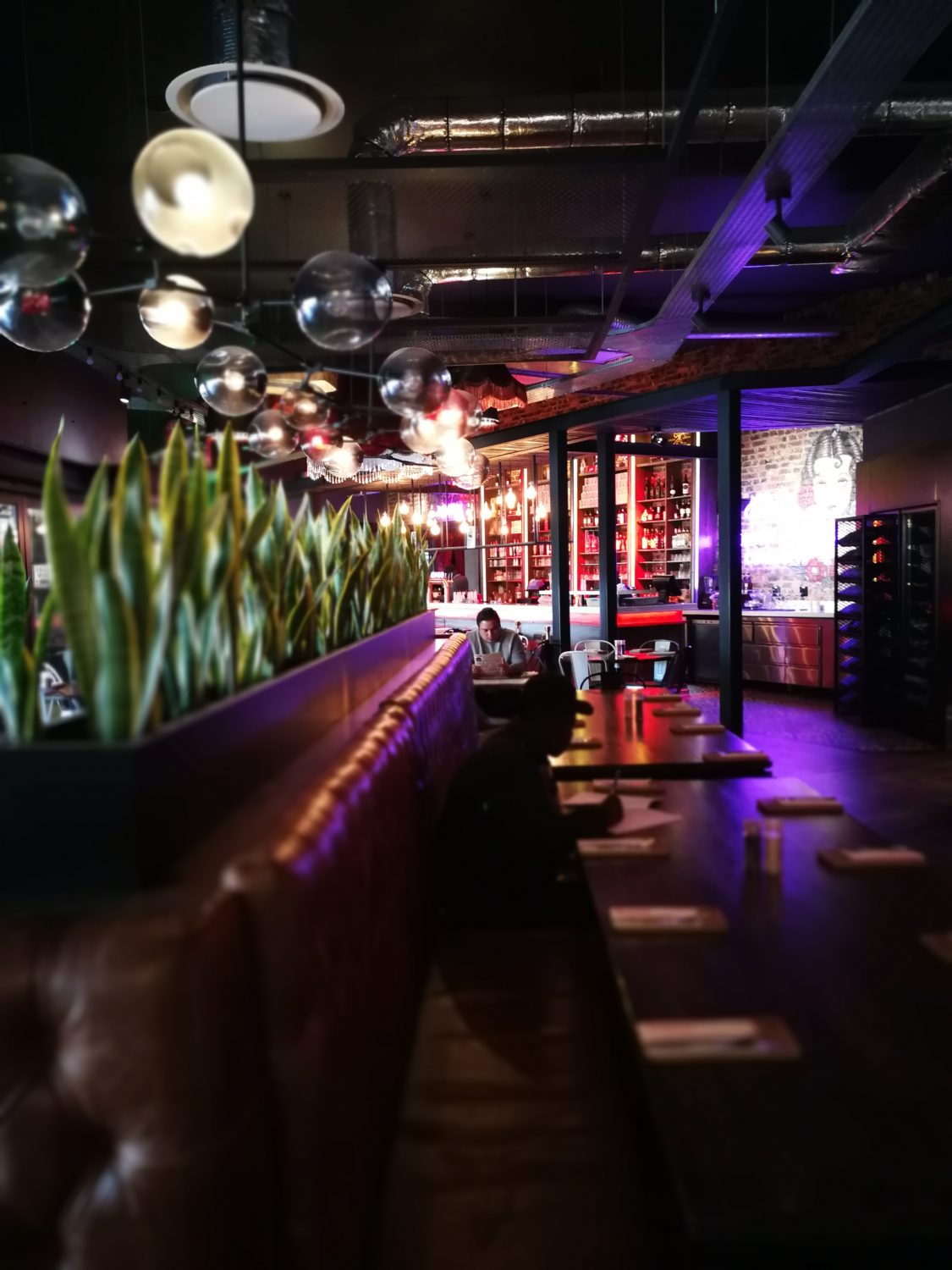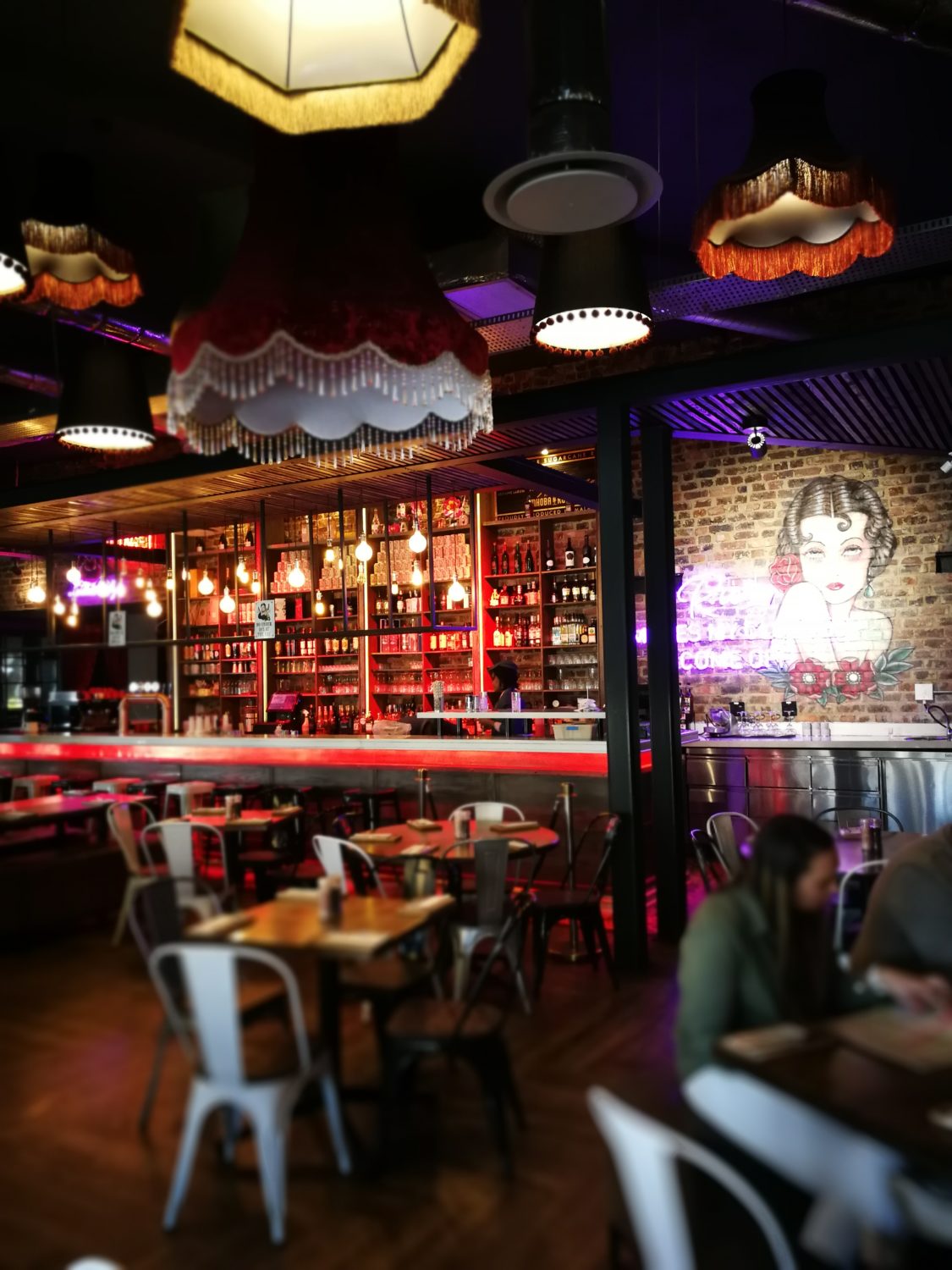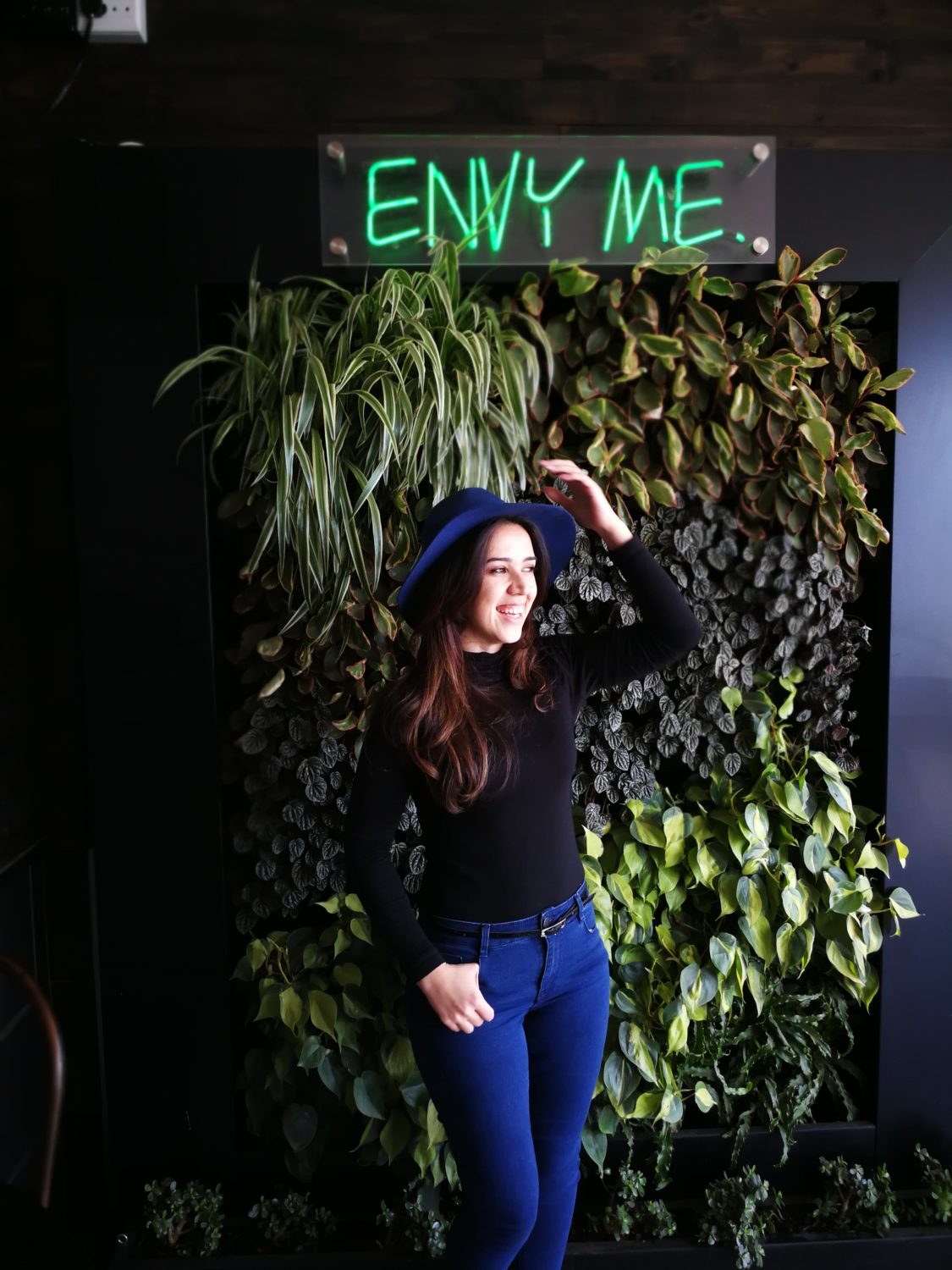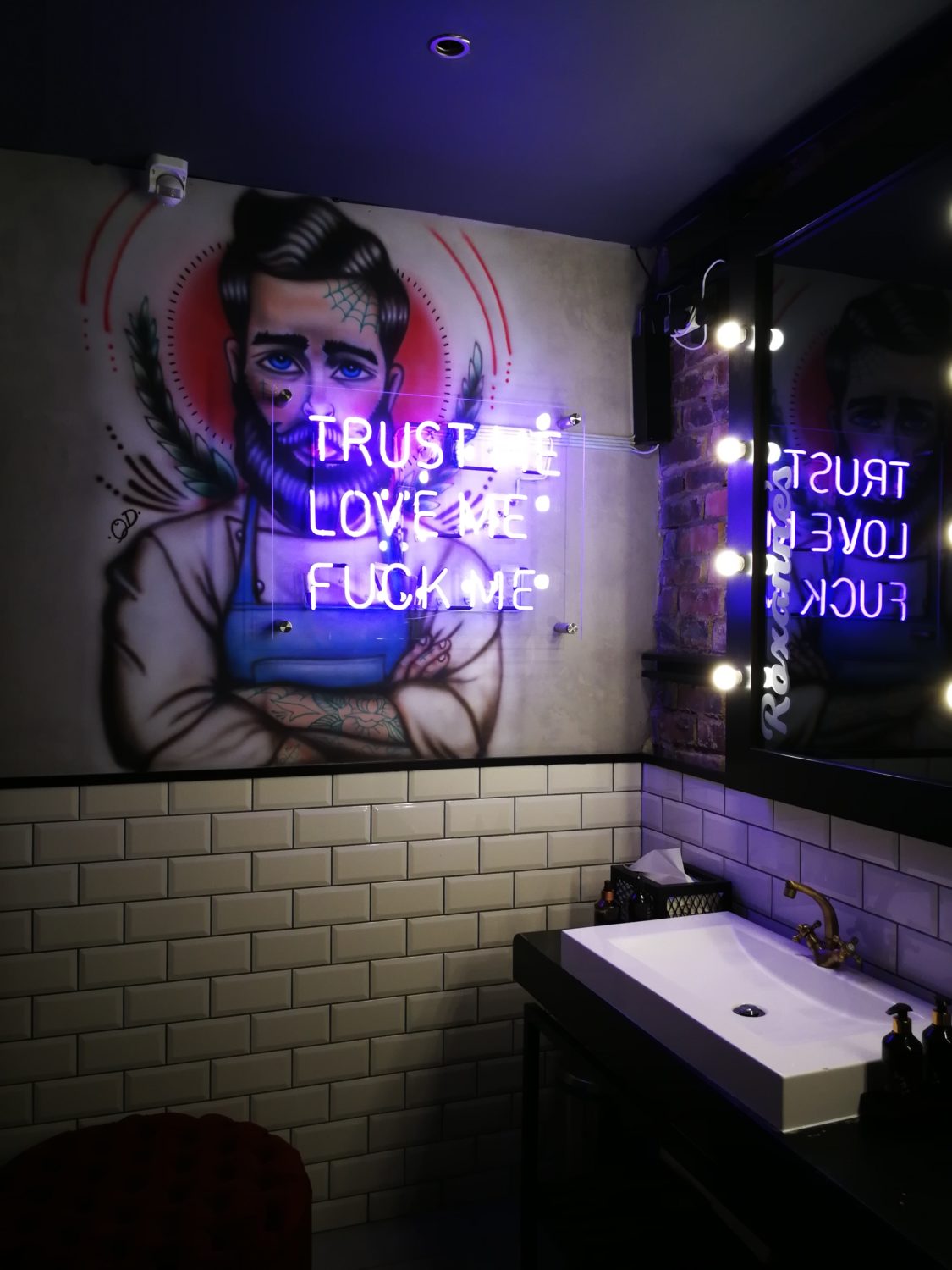 Is the grub good?
The menu is really something! Your eyes will feast and your stomach will grumble with the options they have to offer… They cater for all! Vegan, non-Vegan, Vegetarians, Meat eaters and just food lovers all round!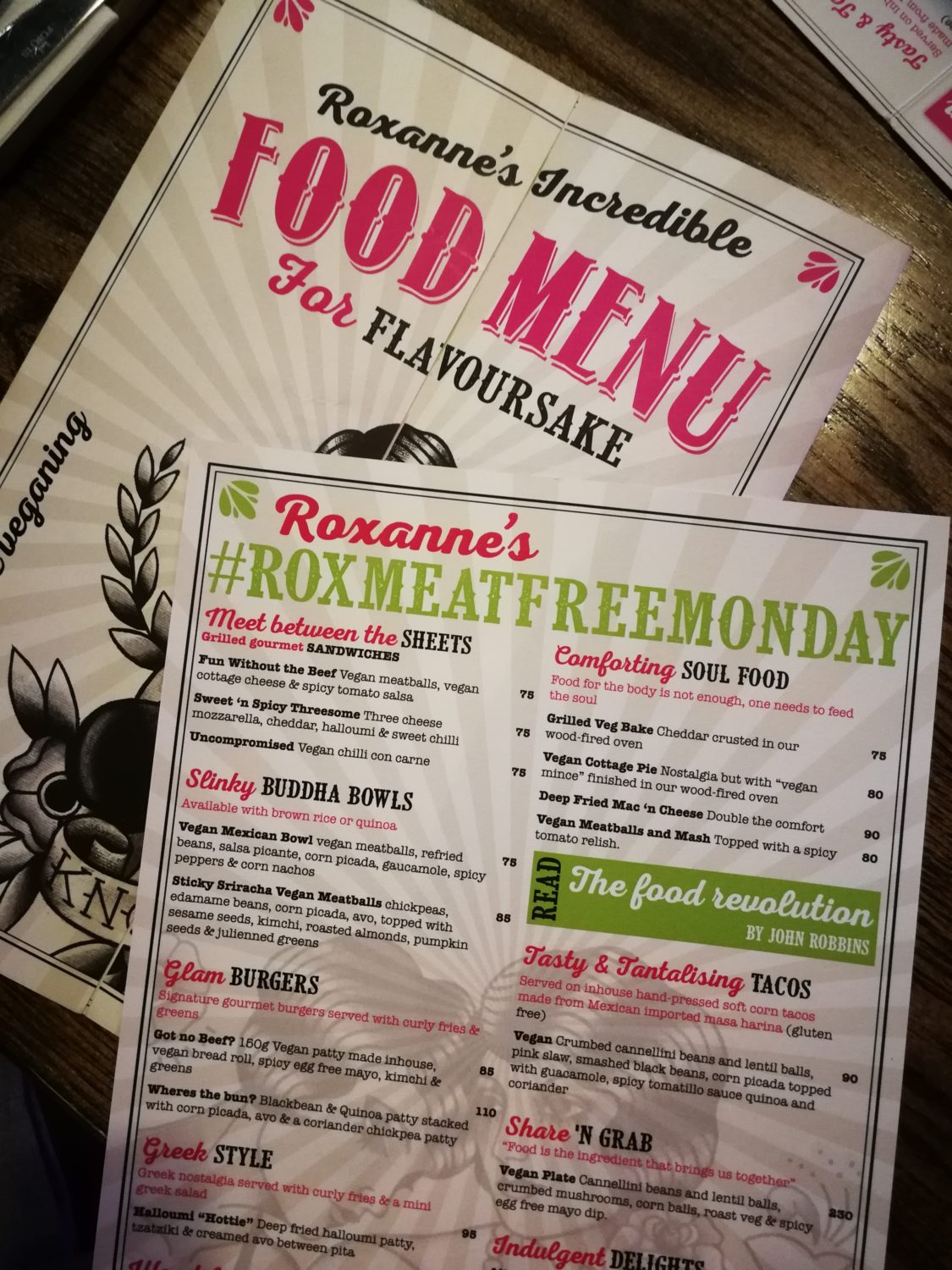 It was M, Myself and our couple besties!  We ooo'ed and ahh'ed over the menu and when it came time to order we wasted no time in diving in! They really have such an amazing vegan menu with tons to choose from, you can eat meat-free versions of all your favourite dishes. Pizza, burgers, tacos, salads, sandwiches, desserts. Limitless really. The new menu promises not to disappoint, in fact, it may even surprise those meat-loving individuals!
Off the new vegan menu, we opted for the Vegan Taco–  Crumbed cannellini beans and lentil balls, pink slaw, smashed black beans, corn picada topped with guacamole, spicy tomatillo sauce, quinoa and coriander and the Got no Beef? Glam Burger 150g Vegan patty made in-house, vegan bread roll, spicy egg free mayo, kimchi & greens.
For the non vegans- They opted for the Beer Battered Hake and Fries and the Mince, Bacon Macaroni Bake.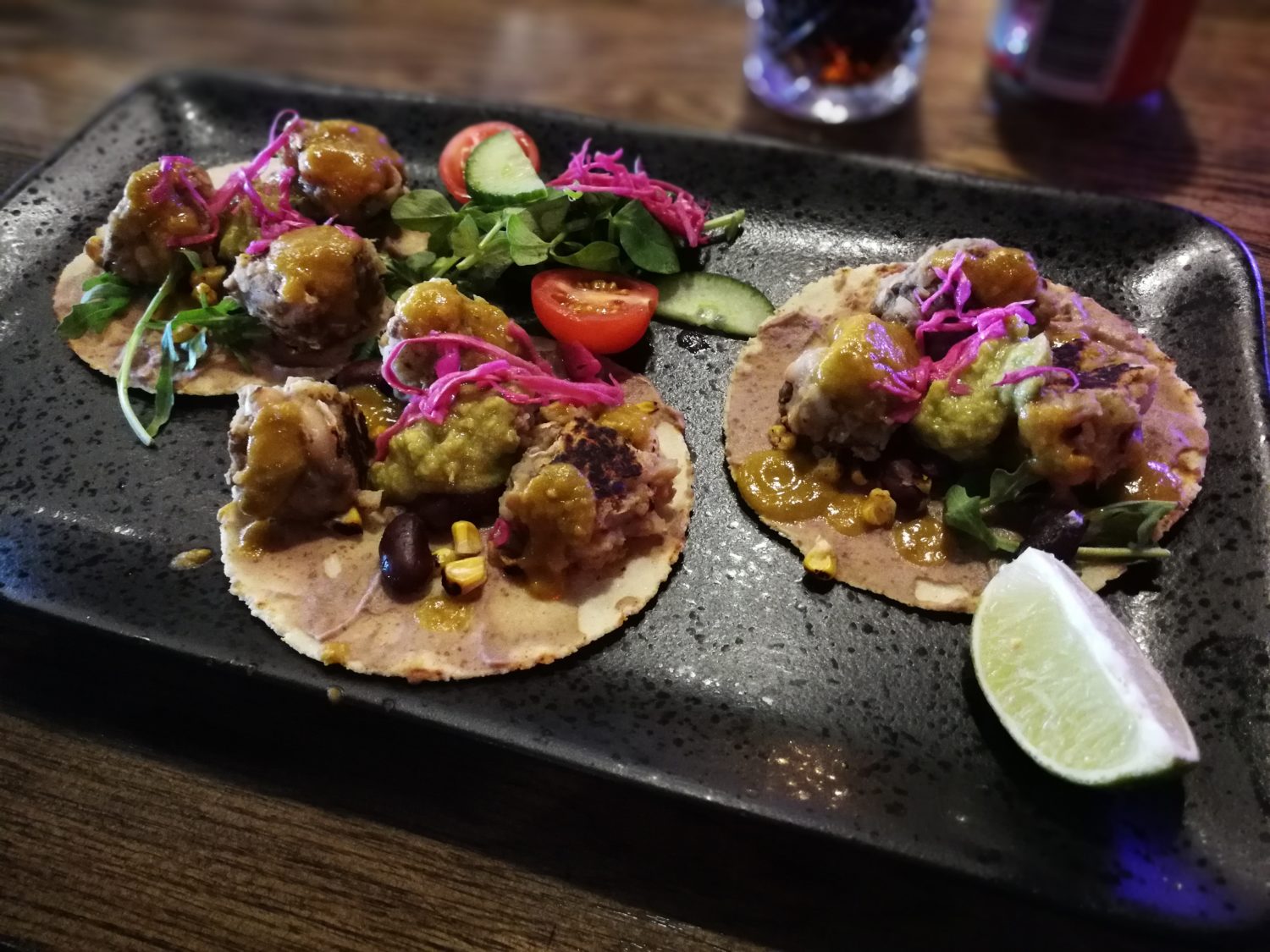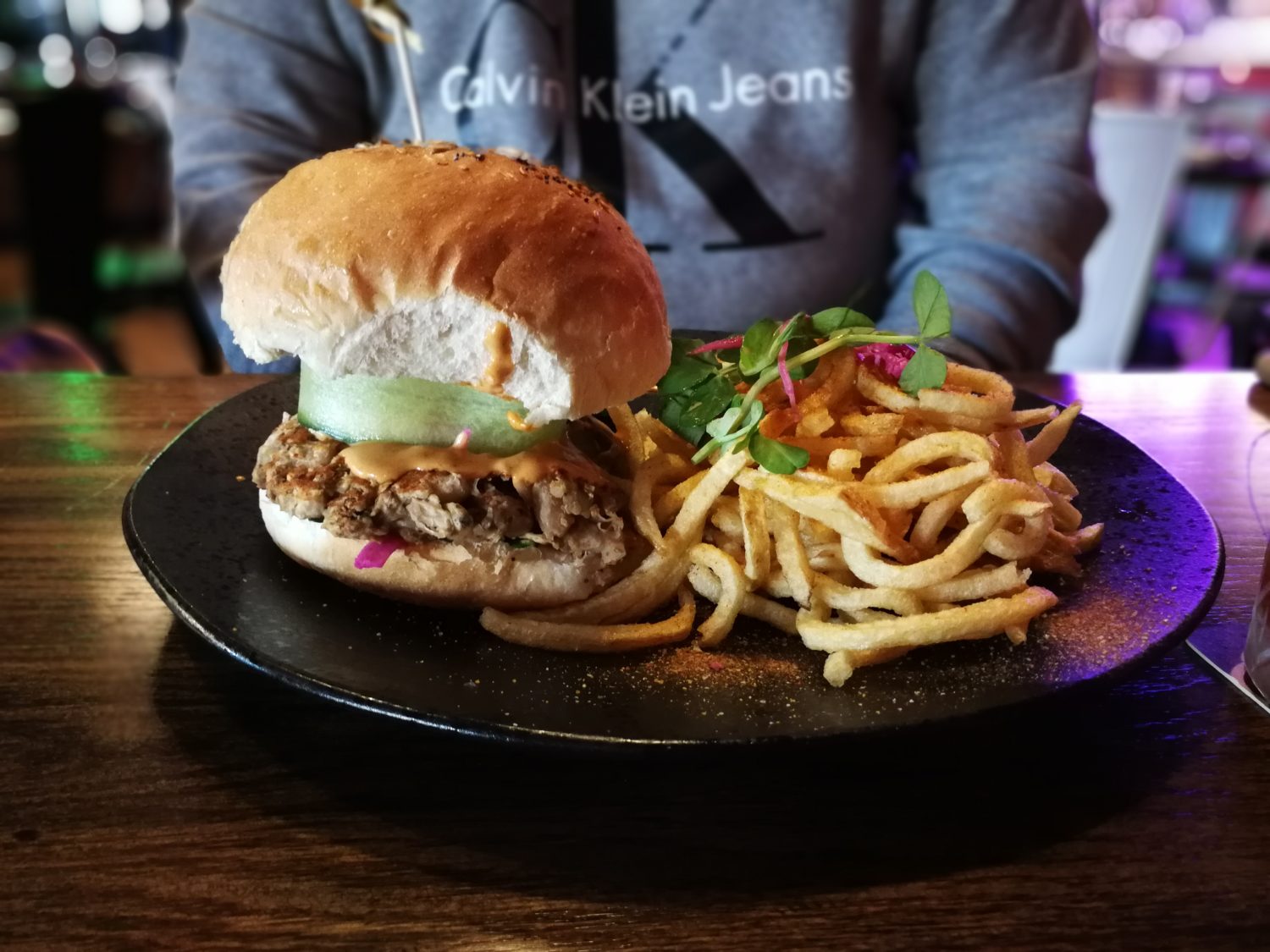 The Verdict…
Tacos = The tacos were delicious! I'm a sauce loving kind of girl, so I would have liked a bit more of the spicy tomatillo sauce, but other than that it was pretty great for my first Vegan dish. The portion size is just enough. I would say it's a perfect tapa type meal but if you really hungry then I would order a side with it!
Burger =R loved it! He is a vegetarian and was surprised by how good the burger was!
All round, we really loved our meals.. I kept on asking how the food was and the response I got back was muffled mmm's and in-between the chewing "It's really good!".  Roxanne, I think you did well!
But the real show stopper was the Guilt Free Vegan Cheese Cake. It's topped with Tipo Tinto infused naughty berries and it is so delicious!!! A definite must try, even if you share it with a couple of buddies!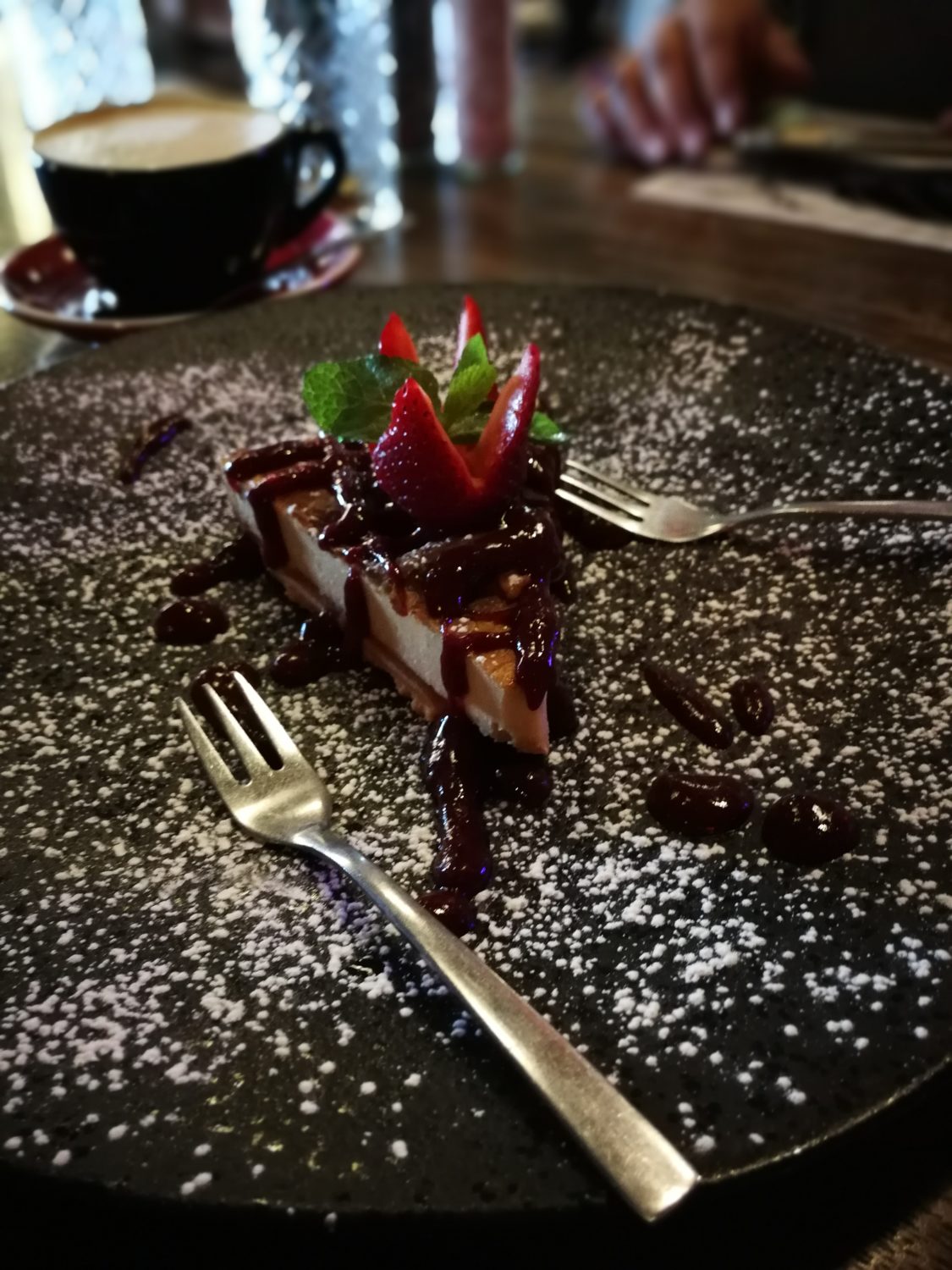 The Cocktails…
If you are a Rum lover then you are in for a treat! Roxanne's Rum infused cocktails are simply delicious! The Pauline Pfeiffer was the favourite amongst the group by far.. Smooth and sweet with a hint of cinnamon kick in the end! Delicious! Definitely grab a cocktail while you are there- It's totally worth it!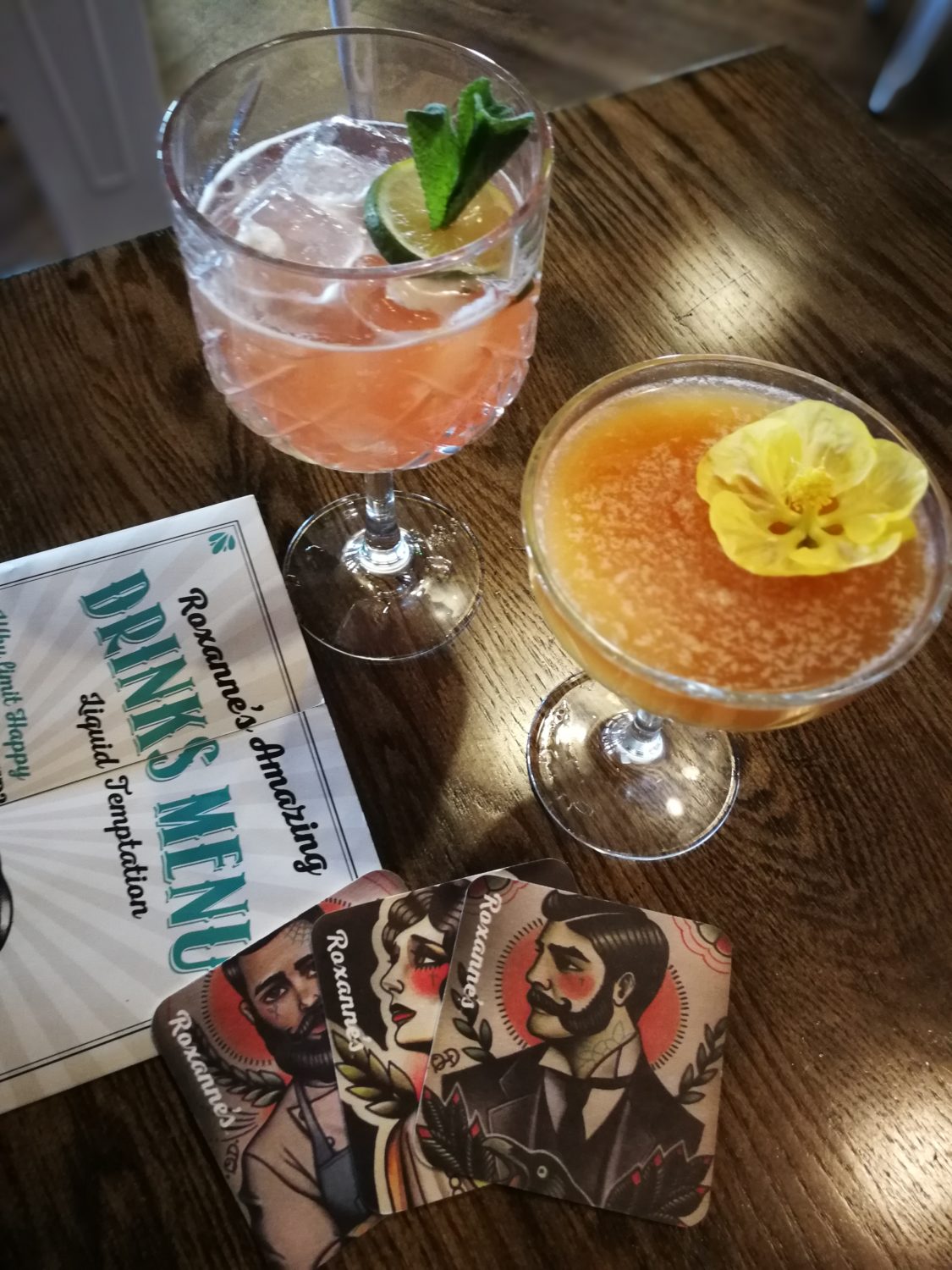 Roxanne, in all that she is, is breaking the mold with a menu filled with delicious choices abundant with flavour and textures that will appeal to vegetarians, vegans, reductarians, and flexitarians alike. A home for all palates, where everyone is welcome. Why do what has always been done? Why eat what has always been eaten? Take Roxanne's hand and let her show you a whole new world. This is not just another restaurant. This is not just another Rum Eatery. This is Roxanne
Roxanne, you were wildly wonderful!
We will be back!
**This is a sponsored post**